An unforgettable golden oldie.
Our grass fed lamb chops are made from Barnsley reared lambs. Traditionally, the farmers of Barnsley enjoyed this flavoursome cut on market day. Served on the bone for extra taste, with beautifully tender meat either side, it easy to understand why it still such a popular cut today. 2 x 226gm /8oz chops.
Nutritional Information
| | |
| --- | --- |
| Per 100gm | |
| Energy (kj) | 1153 |
| Energy (kcal) | 278 |
| Fat | 23g |
| Fat (of which saturates) | 10.8g |
| Carbohydrate | 0.1g |
| Carbohydrate (of which sugars) | 0.1g |
| Fibre | 0.1g |
| Protein | 17.6g |
| Salt (mg) | 0.15g |
Satisfaction Guaranteed
Please see our other range of lamb available to buy online.
Chef's Recipe
Barnsley Chops with Big Chips and Crushed Peas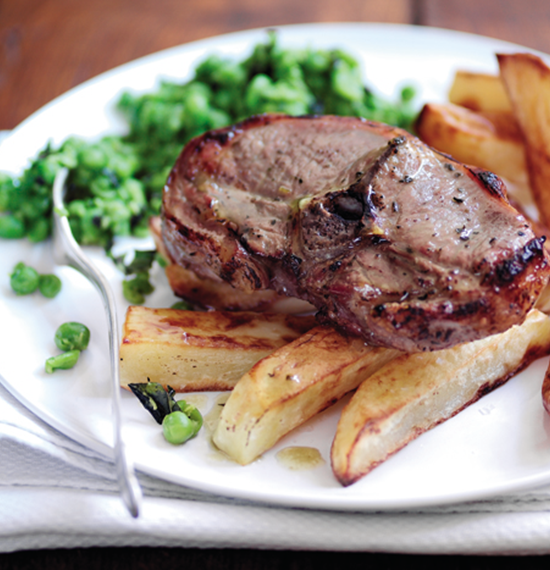 Ingredients
2 lean lamb Barnsley (double loin) chops or single loin chops

2 large baking potatoes, peeled and cut into very thick chips

2 tablespoons olive oil

3 tablespoons mint jelly, softened

225g frozen peas

12g butter

1 tablespoon freshly chopped mint
Method
Preheat the oven to 200ºC, 400ºF, Gas Mark 6.
Place the potatoes in a large non-stick roasting tray. Drizzle over the olive oil and toss together, season. Bake in oven for 35-40 minutes, turning occasionally until golden brown and crisp.
Preheat the grill. Place the chops on the grill pan and glaze with half the mint jelly. Grill for 6-8 minutes on each side, using up the glaze.
Meanwhile, place the peas in a pan and bring to the boil, lower the heat to a simmer and cook for 6-8 minutes then drain. Lightly crush using a potato masher, stir in the butter and mint. Mix thoroughly.
Serve the Barnsley chops, big chips and crushed peas all together.
Knew these years ago when they were called chump chops. These were delicious Sweet tender and a good size Thoroughly recommend them
Flavour hit
Barnsley chops I fried to colour and finished in the oven, crispy fat and still pink inside, rested. These were absolutely delicious, I have no need to say more.
Tasty lamb
I bought the lamb, beef, and the pork sausages, they are all delicious. The delivery is on time, very well packed. I will definitely be ordering again.
Delicious tender meat
First time I have ordered from Yorkshire lean meat and everything has been so tasty and tender. It puts supermarket meat to shame! Will definitely be back for more