Yorkshire Free Range Grass Fed Leg of Lamb
Yorkshire Free Range Grass Fed Leg of Lamb
Everybodys favourite, with an abundance of lean, succulent meat ideal for a Sunday roast with all the trimmings and well suited to cooking with aromatic rosemary. Skillfully prepared by our Artisan Butcher and left on the bone for maximum flavour, the impressive sweet taste reflects the quality of the lush pastures where our flocks mature on diets of wild flowers, herbs and natural grasses. The true flavour of North Yorkshire grass fed lamb.
Chef's Recipe
Anchovy and Mustard Glazed Leg of Lamb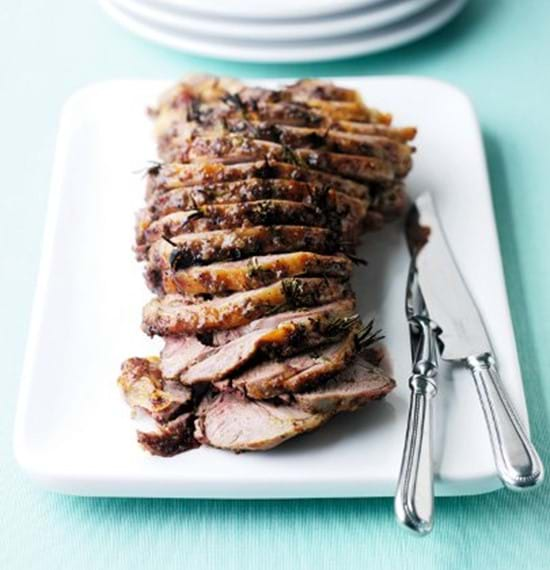 Ingredients
1.3kg lean boneless leg of lamb

4-5 garlic cloves, peeled and cut into slivers

4 large sprigs of rosemary

Cold-pressed rapeseed or extra virgin olive oil

1 tablespoon wholegrain mustard

4 or 5 anchovy fillets, in olive oil, drained and finely chopped

Large knob of butter, slightly softened

1 teaspoon honey
Method
To prepare your lamb; place on a chopping board then stud it with the garlic and rosemary. Gently insert the tip of a knife about an inch into the flesh of the lamb and then push a sliver of garlic and a couple of rosemary leaves into the hole left behind. The more of these you do, the more highly developed the flavour. I would recommend at least 10 and up to 20. The lamb can be prepared up to this point well in advance, even the night before.
Preheat the oven to 180-190°C,

 

160°C-170°C, Fan, 

Gas mark 4-5, Rub the lamb all over with the oil and season well with sea salt and freshly ground black pepper, put it on a baking tray in the oven and cook according to how you like your lamb.
Meanwhile blend the mustard, anchovy, butter and honey into a paste. About 25 minutes before the end of the cooking time smear or brush this over the skin of the lamb and return to the oven. When the glaze has taken on a golden brown colour, remove the lamb from the oven, transfer to a large warm plate, cover with foil and leave to rest for 5-10 minutes somewhere warm before serving.
This dish would be delicious with some roast potatoes, whatever seasonal greens you can lay your hands on and a crunchy radish salad with a light sour cream dressing.
Great value
This swordfish was the best ever tasted and I have eaten lots of it in the Med
Impressed first time customer
Great service and top quality product. Very nice roasted and just as good with leftovers turned in to shepherds pie. Will definitely be back for more.
Yorkshire Grass Fed Spring Leg of Lamb