Beef Fillet with a tail
You really cant beat a hearty beef stroganoff to satisfy your taste buds. Our 100% grass fed dry aged fillet tails are perfect for this dish. They are named tails as they are the tail end pieces of fillet from the fillet where the tail gets thinner. This cut is still as tender as the main fillet and its much cheaper. Available in 1kg packs.
See all our other grass fed steaks available to buy online.
Nutritional Information
| | |
| --- | --- |
| Per 100gm | |
| Energy (kj) | 461 |
| Energy (kcal) | 110 |
| Fat | 2.0g |
| Fat (of which saturates) | 1.0g |
| Carbohydrate | <0.1g |
| Carbohydrate (of which sugars) | <0.1g |
| Fibre | <0.1g |
| Protein | 20.3g |
| Salt (mg) | 0.14g |
Satisfaction Guaranteed
Please see our about us page
Chef's Recipe
Fillet Steaks with Anchovy and Rosemary Butter Sauce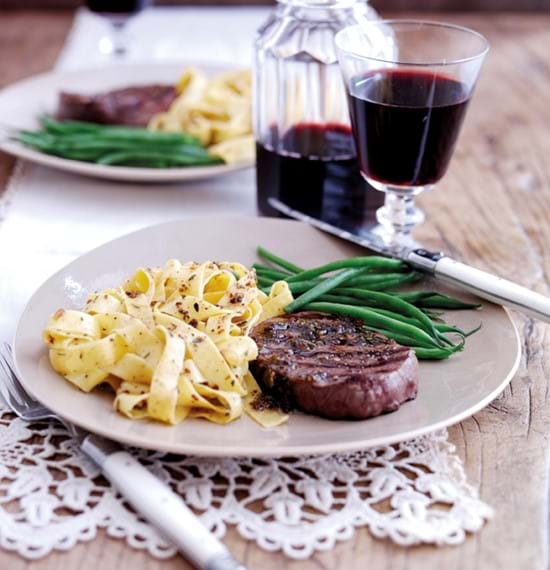 Ingredients
2 lean fillet steaks

Salt and freshly milled black pepper

10ml/2tsp oil

For the Anchovy and Rosemary Butter Sauce

:75g/3oz unsalted butter

1 shallot, peeled and finely chopped

2-3 anchovy fillets in oil, drained and finely chopped

15ml/1tbsp freshly chopped rosemary leaves

5ml/1tsp good quality balsamic or red wine vinegar

200g/7oz cooked tagliatelle, to serve
Method
Heat a large non-stick griddle pan; meanwhile place the steaks on a large plate or chopping board, season and coat with the oil on both sides.
Cook the steaks according to your preference.
Meanwhile, to prepare the sauce; heat a small non-stick pan and add the butter, shallot, anchovies and rosemary.  Cook for 2-3 minutes until the shallots are cooked and lightly golden.  Remove from the heat and stir through the balsamic vinegar or red wine.
Transfer the steaks to a warm plate and drizzle over a little of the sauce.  Toss the cooked tagliatelle in any remaining sauce from the pan and serve with the steak and seasonal vegetables.
32days dry aged
Your meat is always 1st class My daughter in law is always so pleased with her order Thank you L P