32 Day Aged Yorkshire Grass Fed Fillet Steak
Melt in the mouth Fillet steak
For a tender, prime cut of dry aged grass fed lean fillet steak, matured for 32 days, look no further. Whether pan-fried with butter or sliced thinly and served chilled on a simple Asian salad, our fillet steak falls apart in the mouth. Savour every forkful with this hearty tasting but light-textured favourite. Available in 6oz, 8oz, 10oz.
See all our other grass fed steaks available to buy online.
Nutritional Information
| | |
| --- | --- |
| Per 100gm | |
| Energy (kj) | 461 |
| Energy (kcal) | 110 |
| Fat | 2.0g |
| Fat (of which saturates) | 1.0g |
| Carbohydrate | <0.1g |
| Carbohydrate (of which sugars) | <0.1g |
| Fibre | <0.1g |
| Protein | 20.3g |
| Salt (mg) | |
Satisfaction Guaranteed
Please see our about us page
Chef's Recipe
Fillet Steaks with Tarragon and Shallot Butter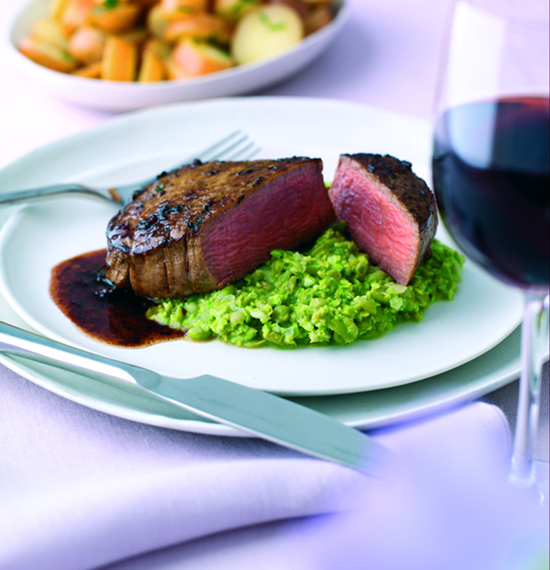 Ingredients
4 lean beef fillet steaks
For the Tarragon and Shallot Butter:
100g butter, softened
1 small shallot, peeled and finely diced
1 tablespoon freshly chopped tarragon
Dash of Port or cream sherry
For the Pea Purée:
1 small onion, peeled and finely chopped
25g butter
150ml good, hot chicken or vegetable stock
450g fresh green peas
Large bunch freshly chopped flat-leaf parsley, optional
Method
In a bowl blend together the butter, shallot, tarragon and seasoning. Form the butter into a sausage shape and wrap in cling film or foil and refrigerate.

To make the pea puree place the onion, butter, stock and peas in a large pan, Season, bring to the boil, reduce the heat, cover and simmer for 4-5 minutes.
Drain and reserve two tablespoons of the stock. Puree to a desired consistency with the reserved stock. Add the freshly chopped parsley, if used. Set aside and keep warm.

Gently heat 50g of the tarragon and shallot butter in a large pan until foaming. Add the fillet steaks and cook over a medium heat, turning once. Remove from the pan and keep warm.
Re-wrap any remaining butter and freeze for up to 3 months.
Add a dash of Port or cream sherry to the pan, stir, bring to the boil, reduce the heat and cook for a further 2-3 minutes until the sauce is reduced and syrupy.

Serve the steaks with the sauce on a bed of the pea puree with a hot new potato and chive salad.
Great for grilling on special occasions
Very nice cut of meat. Delivered quickly and an easy transaction. Quite tender - 3 mins per side on my grill was perfect.
Superb Steak, and speedy delivery.
I'll be coming back for more of the steak for sure, and more ribs too.
Luscious
A very tasty and tender treat. If I could give 10 stars for your fillet steaks I would and so would my partner.
great piece of meat got what i paid for
would eat it again you cannot say any better that that.
Really delicious meat
Fantastic steaks which I ate on New Years Eve with a lovely bottle of red. Highly recommended!