Melt in the mouth Fillet steak
For a tender, prime cut of dry aged grass fed lean fillet steak, matured for 32 days, look no further. Whether pan-fried with butter or sliced thinly and served chilled on a simple Asian salad, our fillet steak falls apart in the mouth. Savour every forkful with this hearty tasting but light-textured favourite. Available in 6oz, 8oz, 10oz.
See all our other grass fed steaks available to buy online.
Nutritional Information
| | |
| --- | --- |
| Per 100gm | |
| Energy (kj) | 461 |
| Energy (kcal) | 110 |
| Fat | 2.0g |
| Fat (of which saturates) | 1.0g |
| Carbohydrate | <0.1g |
| Carbohydrate (of which sugars) | <0.1g |
| Fibre | <0.1g |
| Protein | 20.3g |
| Salt (mg) | |
Satisfaction Guaranteed
Please see our about us page
Chef's Recipe
Fillet Steaks with Tarragon and Shallot Butter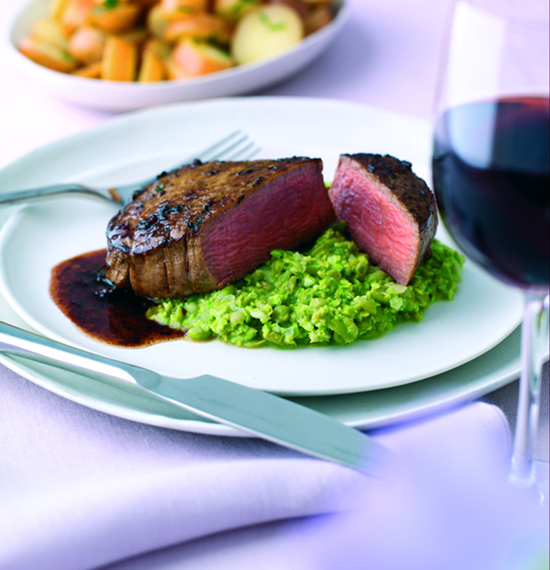 Ingredients
4 lean beef fillet steaks
For the Tarragon and Shallot Butter:
100g butter, softened
1 small shallot, peeled and finely diced
1 tablespoon freshly chopped tarragon
Dash of Port or cream sherry
For the Pea Purée:
1 small onion, peeled and finely chopped
25g butter
150ml good, hot chicken or vegetable stock
450g fresh green peas
Large bunch freshly chopped flat-leaf parsley, optional
Method
In a bowl blend together the butter, shallot, tarragon and seasoning. Form the butter into a sausage shape and wrap in cling film or foil and refrigerate.

To make the pea puree place the onion, butter, stock and peas in a large pan, Season, bring to the boil, reduce the heat, cover and simmer for 4-5 minutes.
Drain and reserve two tablespoons of the stock. Puree to a desired consistency with the reserved stock. Add the freshly chopped parsley, if used. Set aside and keep warm.

Gently heat 50g of the tarragon and shallot butter in a large pan until foaming. Add the fillet steaks and cook over a medium heat, turning once. Remove from the pan and keep warm.
Re-wrap any remaining butter and freeze for up to 3 months.
Add a dash of Port or cream sherry to the pan, stir, bring to the boil, reduce the heat and cook for a further 2-3 minutes until the sauce is reduced and syrupy.

Serve the steaks with the sauce on a bed of the pea puree with a hot new potato and chive salad.
Superb meat
The steaks grilled beautifully notwithstanding being very lean. I will certainly repeat order..
Superb steak
My wife and I both enjoyed the fillet steak - she said it was the best she had ever eaten! Really good flavour despite being very lean.
Great for grilling on special occasions
Very nice cut of meat. Delivered quickly and an easy transaction. Quite tender - 3 mins per side on my grill was perfect.
Superb Steak, and speedy delivery.
I'll be coming back for more of the steak for sure, and more ribs too.
Luscious
A very tasty and tender treat. If I could give 10 stars for your fillet steaks I would and so would my partner.