Melt In The Mouth Calves Liver
Bursting with flavour, extremely soft and tender, our grass-fed calves liver really is 'melt in the mouth' delicious. It has a fairly strong flavour (the longer you cook it the stronger the taste becomes) so is fantastic to add to stews and casseroles, as well as enjoying on its own pan-fried with some creamy mash and spinach. 1 Kg packs available as a whole or sliced.
Please see our other cuts of beef available to buy online if this is not what you were looking for.
Chef's Recipe
Pan-Fried Liver with Onions and Sage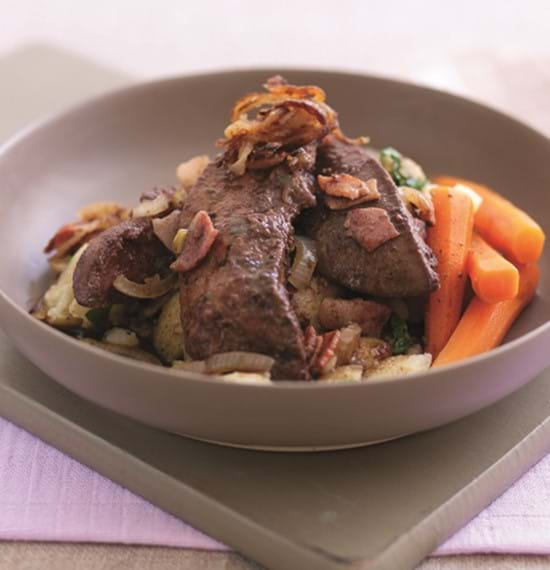 Ingredients
450g/1lb beef liver, sliced

15ml/1tbsp plain flour

Salt and freshly milled black pepper

1 small handful fresh sage leaves, finely chopped

175g/6oz smoked back or streaky bacon, cut into pieces, or pancetta cubes (optional)

1 medium onion, peeled and finely sliced

5ml/1tsp olive oil

45ml/3tbsp good, aged balsamic vinegar

350ml/12floz good, hot beef stock
Method
In a shallow bowl mix together the flour, seasoning and sage leaves. Toss the liver in the seasoned flour.
Heat a large non-stick frying pan and dry fry the bacon or pancetta (if using) with the onions for 3-4 minutes until crispy. Remove and keep warm.
In the same pan heat the oil and cook the liver for 1-2 minutes on each side, to seal. Remove the liver from the pan and keep warm with the bacon.
Add the balsamic vinegar to the pan and stir in the stock, return the liver and bacon to the pan and simmer for 5 minutes.
Serve with crispy onions, crushed new potatoes and carrots.
Calves liver
Best we have tasted would recommend
Yorkshire Grass Fed Calves Liver
Very Expensive Disappointed
The calves liver we cooked perfectly! But Not enjoyed. When you cut into the liver there were stringy pieces that you could not slice through. This put us off eating, so we left it. What little calves liver was eaten was beautiful and tender but the Majority was thrown away! I feel cheated? Sorry. A lot to pay for so little! In a Restaurant it would have been sent back! and not paid for. Can I have my money back please, or will you send some really nicely sliced Prepped calves liver to make amends. Fairs fair, please Reply. Thank you.
Veal liver
Not quite what I am used to and didn't resemble your picture of calves liver. I understand that calf is veal but what we had was very dark and difficult to slice. I did ask for it to be sliced on the order but it arrived unsliced.
Calves liver
This liver is delicious! We ate it regularly when we lived in France, and this equals the French liver - easy to slice up, tender and delicate flavour. So pleased to have found a supplier in the UK.