32 Dry Aged Beef Stir Fry Strips
Cut from the fillet, rib, and sirloin, our prime steak strips are perfect for beef dishes, not least stroganoff, goulash, and pies. With characteristic deep flavour and meltingly tender texture these steaks are ideal for everyday as well as discerning dishes.  These beef strips are perfect for creating a super tasty healthy option with big flavours.
Chef's Recipe
Seared Beef Strips on Mushroom and Spinach Bruschetta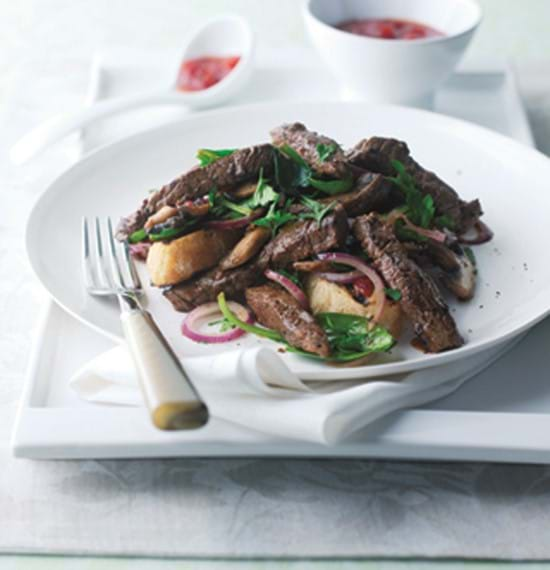 Ingredients
375g/12oz lean rump, sirloin or minute steaks, cut into 10cm/4inch strips

1 small ciabatta loaf, thickly sliced

60ml/4tbsp olive oil

15ml/1tbsp Worcestershire sauce

5ml/1tsp steak seasoning

5ml/1tsp light soft brown sugar or runny honey

Salt and freshly milled black pepper

1 small red onion, peeled and sliced

75g/3oz mushrooms, sliced

15ml/1tbsp tomato chutney or relish

100g/4oz pack baby spinach or wild rocket leaves, rinsed

30ml/2tbsp freshly chopped flat-leaf parsley, to garnish
Method
Drizzle the ciabatta slices with half the olive oil. Heat a griddle pan until hot and heat the slices for 2 minutes on each side. Transfer to a warm plate.
In a large bowl mix together the Worcestershire sauce, steak seasoning, sugar or honey and seasoning. Add the beef strips, toss gently, cover and set aside.
Heat a medium pan with 15ml/1tbsp oil and cook the onion and mushrooms for 3-4 minutes. Stir through the tomato chutney or relish and spinach or rocket leaves. Season.
Heat the remaining oil in the griddle pan and cook the beef for 2-3 minutes on each side.
To serve, divide the mushroom and spinach mixture evenly over the ciabatta slices, then top with the beef strips and freshly chopped parsley.
Sent to nephew who was self isolating
He was finding it difficult to get shopping. I sent him a parcel of your various meats and he was delighted . Very quick service .