Succulent matured steak
Carefully selected and Dry Aged for 32 days for maximum flavour, the dark marbling of our grass fed rump steaks guarantees a sensational taste. Place on a smoking hot griddle with a pinch of seasoning and cook to your preference. Once rested, slice thinly against the grain and enjoy. Available in 28oz.
See all our other grass fed steaks available to buy online.
Nutritional Information
| | |
| --- | --- |
| Per 100gm | |
| Energy (kj) | 505 |
| Energy (kcal) | 120 |
| Fat | 3.0g |
| Fat (of which saturates) | 1.4g |
| Carbohydrate | <0.1g |
| Carbohydrate (of which sugars) | <0.1g |
| Fibre | <0.1g |
| Protein | 23.1g |
| Salt (mg) | 0.11g |
Satisfaction Guaranteed
Please see our about us page
Chef's Recipe

Rump Steaks with Lemon Grass and Ginger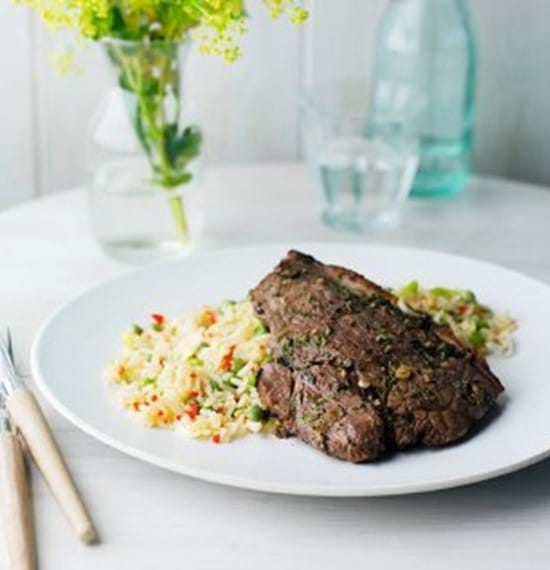 Ingredients
2 lean rump or rib-eye steaks
For the Lemon Grass and Ginger Marinade:
2 stick fresh lemon grass, finely chopped
1 x 2.5cm piece fresh root ginger, peeled and finely chopped
2 tablespoons freshly chopped coriander
Dash Tabasco sauce
2 tablespoons Worcestershire sauce
4 teaspoons sunflower oil
For the Spring Onion and Egg Fried Rice:
2 tablespoons oil
2 garlic cloves, peeled and finely chopped
4 spring onions, finely chopped
1 red chilli, deseeded and finely chopped, optional
175g cooked and cooled long-grain rice
1 large egg, beaten
75g peas
Fresh coriander leaves and spring onions, to garnish
Method
To prepare the lemon grass and ginger marinade; in a large shallow non- metallic dish mix together all the ingredients.
Place the steaks in the marinade mixture and coat well. Cover and refrigerate for up to 2 hours, or if time allows overnight.

Remove the steaks from the marinade (discard the marinade) and cook under a prepared barbecue or preheated moderate grill according to your preference.

Meanwhile, to prepare the fried rice; heat the oil in a large non-stick frying pan or wok and stir-fry the garlic, spring onions and chilli (if used).

Add the rice and toss frequently until heated through. Add the egg and peas; cook, tossing frequently for 3-4 minutes or until the egg is cooked. Season.

Pour any meat juices from the grill pan over the beef and serve with the rice.
Grass fed Yorkshire Topside beef
As of yet I have not used anything from this order but I am sure I will be as happy with the contents as I have been with previous orders, will be pleased to review again after using my purchase xx