Succulent matured steak
Carefully selected and Dry Aged for 32 days for maximum flavour, the dark marbling of our grass fed rump steaks guarantees a sensational taste. Place on a smoking hot griddle with a pinch of seasoning and cook to your preference. Once rested, slice thinly against the grain and enjoy. Available in 6oz,  8oz, 10oz, 12oz, 14oz.
See all our other grass fed steaks available to buy online.
Nutritional Information
| | |
| --- | --- |
| Per 100gm | |
| Energy (kj) | 505 |
| Energy (kcal) | 120 |
| Fat | 3.0g |
| Fat (of which saturates) | 1.4g |
| Carbohydrate | <0.1g |
| Carbohydrate (of which sugars) | <0.1g |
| Fibre | <0.1g |
| Protein | 23.1g |
| Salt (mg) | 0.11g |
Satisfaction Guaranteed
Please see our about us page
Chef's Recipe
Stilton Stuffed Rump Steak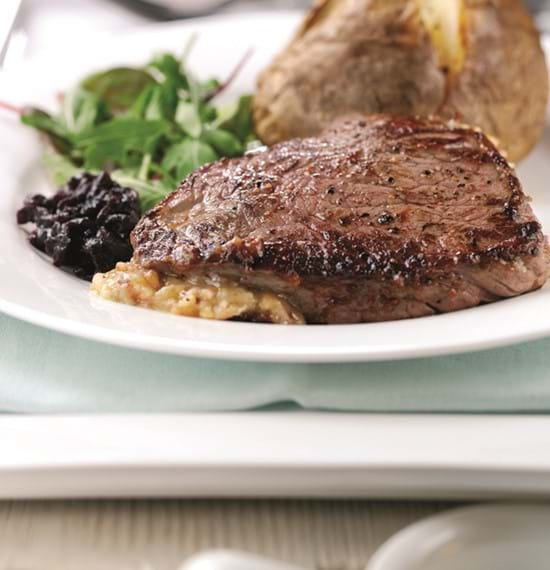 Ingredients
4 x 175g lean rump steaks,

150g blue cheese, e.g. Stilton

15g butter, slightly softened

1 tablespoon single cream

2 tablespoons hazelnuts, finely chopped

2 tablespoons sunflower oil
For the sweet and sour onions:


25g butter

2 red onions, peeled, halved and sliced

2 sprigs fresh thyme leaves

1 tablespoons soft brown sugar

200ml red wine

4 tablespoons good balsamic vinegar

1 tablespoon redcurrant jelly
Method
Place the cheese, butter, cream and hazelnuts in a small bowl. Mash together and season.
Place the steaks on a chopping board and make a small incision at opposite ends of the steaks, taking care not to cut through the flesh.
Carefully open each pocket and fill with the cheese mixture. Secure each pocket with a cocktail stick, if required. Place on to a plate, cover and refrigerate for 30 minutes.
Prepare the sweet and sour onions; gently heat the butter in a large pan and add the onion and cook for 4-5 minutes until soft.  Add the remaining ingredients and cook for 4-5 minutes until caramelise, stirring occasionally.
To cook the steaks; heat the oil in a large non-stick frying pan. Season the steaks on both sides and cook according to your preference.
Serve the steaks with a portion of the onion marmalade, a jacket potato and a side salad.
Delicious and incredible quality
Tender, tasty steaks. Cannot recommend highly enough!