Beef Short Ribs

More tender and meatier than their pork counterparts, Beef Short Ribs are a versatile cut, well suited to slow cooks, at least 4 hours.  Left on the bone for maximum flavour, these ribs promise melting quality, showcasing the rich quality of the rib meat of our grass fed beef, sourced exclusively from heritage breed herds, reared in  North Yorkshire, you can almost taste the lush grass in this dish.
Chef's Recipe
Beef Short Ribs with Cornbread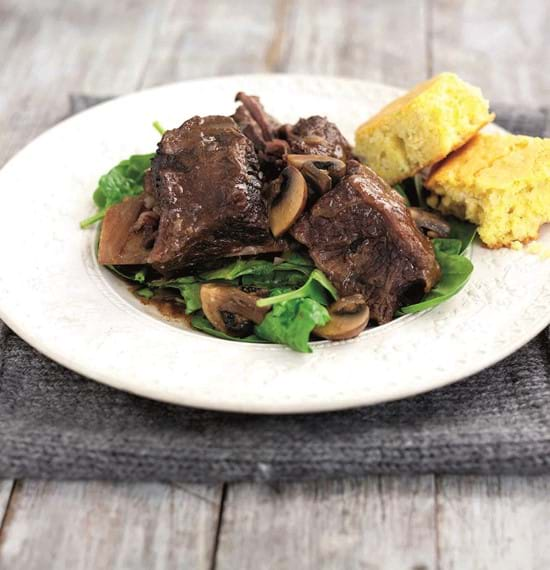 Ingredients
1.8kg/4lb beef short ribs (Jacob's Ladder), cut in half widthways

30ml/2tbsp plain flour mixed with 10ml/2tsp smoked paprika

Salt and freshly milled black pepper

30ml/2tbsp rapeseed or sunflower oil

1 large onion, peeled and sliced

600ml/1pint stout or brown ale

300ml/½pint good, hot beef stock

25g/1oz good, dark plain chocolate (at least 70% cocoa solids)

30ml/2tbsp tomato purée

30ml/2tbsp light brown sugar

2 fresh bay leaves

1 bouquet garni

175g/6oz chestnut mushrooms, quartered

For the Cornbread

:200g/7oz instant fine polenta (cornmeal)

100g/4oz plain flour

5ml/1tsp baking powder

Salt and freshly milled black pepper

200ml/7fl oz milk

2 eggs, beaten

50g/2oz butter, melted

1 x 198g can sweet corn in water, drained or fresh sweet corn kernels

2 spring onions, trimmed and chopped
Method
Heat the oil in a large pan. Meanwhile, mix the flour and seasonings in a large plastic food bag. Toss the beef pieces in the seasoned flour.
Cook the beef for 4-5 minutes until brown. Transfer to a large 3.4L/6pint flame/ovenproof casserole dish.
In the same frying pan, cook the onion for 2-3 minutes until soft then transfer to the casserole dish. Add the remaining ingredients (except the mushrooms), bring to the boil, cover and cook on the hob for 3-3½ hours.
One hour before the end of the cooking time for the stew prepare the cornbread; in a large bowl combine all the ingredients except the spring onions and sweet corn. Mix to combine to the consistency of a sponge cake batter, then add the spring onions and sweet corn. Preheat the oven to Gas mark 6, 200°C, 400°F. Grease a 23cm/9inch non-stick spring form cake tin.
Pour into the prepared cake tin and bake for 20-25 minutes or a when a skewer inserted into the centre of the bread and comes out clean. Alternatively, pour the batter mix into standard muffin tins lined with muffin cases.
20 minutes before the end of cooking add the mushrooms. Return to the oven for the remainder of the cooking time.
Serve the beef short ribs with the cornbread and wilted baby spinach or seasonal vegetables.