French Trimmed Grass Fed Rack of Lamb
Few joints impress like an exquisite grass fed rack of lamb. Whether served whole as a decadent centrepiece or divided into juicy pink portions, this rack boasts flavour by the forkful. Accompany with fresh mint sauce and seasonal veg, for a dish to be proud of. Racks are 3 bone - approx 113 - 145g per bone, 339 - 435gm approx and 7 bone - approx 113 - 145g per bone, 791 - 1.1kg
Nutritional Information
| | |
| --- | --- |
| Per 100gm | |
| Energy (kj) | 639 |
| Energy (kcal) | 153 |
| Fat | 15.3g |
| Fat (of which saturates) | 7.0g |
| Carbohydrate | 0 |
| Carbohydrate (of which sugars) | 0 |
| Fibre | 0 |
| Protein | 18g |
| Salt (mg) | 0.12g |
Satisfaction Guaranteed
Please see our other range of lamb available to buy online.
Chef's Recipe
Red Pepper and Rosemary Crusted 2-bone Mini Racks of Lamb with Redcurrant Jus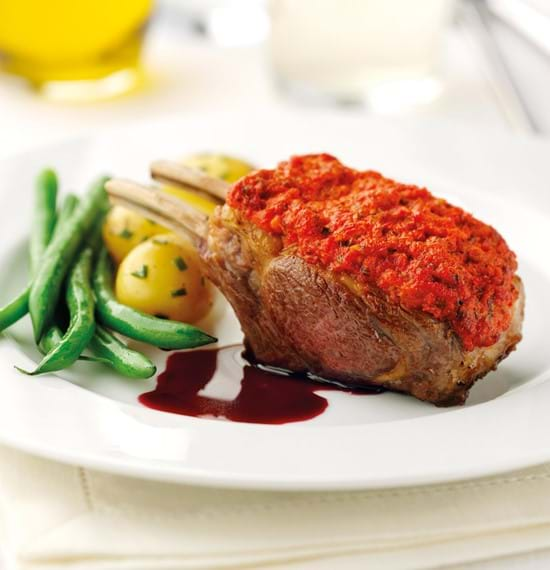 Ingredients
4 x 2-boned mini rack (shoulder) of lamb

Salt and freshly milled black pepper

For the Red Pepper and Rosemary Crust

:2 garlic cloves, peeled and roughly chopped

75g/3oz prepared roasted red peppers in oil, reserving 30ml/2tbsp oil from the jar

15ml/1tbsp freshly chopped rosemary leaves

Dash of hot pepper sauce

For the Redcurrant Gravy

:1 garlic clove, peeled and crushed

300ml/½pint good quality red or rosé wine

1 large sprig fresh thyme

60ml/4tbsp redcurrant jelly

25g/1oz butter
Method
Preheat the oven to Gas mark 7, 220°C, 425°F.
Prepare the redcurrant gravy; place the garlic, wine and thyme in a medium saucepan and boil for 15-20 minutes until reduced by half.  Strain, return to the pan and simmer over a low heat.  Stir in the redcurrant jelly and whisk in the butter.  Season.
To prepare the crust; place the garlic, peppers, reserved oil, thyme and hot pepper sauce in a food processor or blender and whizz until a smooth paste forms.  Season.
Place the racks on a chopping board, fat side up and gently score the skin.  Season.  Heat a large, dry non-stick pan, and sear the lamb in the pan on both sides for 2-3 minutes until brown.  Cool slightly then spread the paste evenly on the fat side of the racks.
Place the lamb in a roasting tray, crust side up and roast for 20-25 minutes (for medium).  Remove from the oven; cover loosely with foil and leave to rest for 5 minutes.
Serve the racks into cutlets and serve with new potatoes, the gravy and seasonal vegetables.
What a rack!
This was our first order and we weren't disappointed at all. Quite lean but with just enough fat to guarantee full flavour when combined with one of our favourite Jose Pizarro recipes!
Excellent service!
I had an issue with the weight of the first rack. It was a little smaller than it should have been. The service was excellent. The lamb was replaced and they posted another one out the next day! Couldn't ask for better service. Lamb was delicious, well packaged and and not too fatty.
Delicious
Absolutely delicious rib of beef and rack of lamb, will recommend to anyone.
Lamb
Really enjoyed our rack of lamb. Would recommend.
Thanks Stacey, Glad you enjoyed it!