32 Day Dry Aged Yorkshire Grass Fed Beef Hanger Steaks
Worth hanging on for
This rather forgotten choice is a flat cut from the diaphragm or lower belly. Hanger steak is a tender grass fed steak with a rich beef flavour.
You should fry quickly and serve with chips. Hanger is the classic steak used in France's steak frites, so if you like your steak tender, packed full of flavour then for a change forget the fillet and try our Yorkshire grass fed beef hanger steaks. Packs of 2 x 8/9oz/254gm.
See all our other grass fed steaks available to buy online.
Nutritional Information
| | |
| --- | --- |
| Per 100gm | |
| Energy (kj) | 716 |
| Energy (kcal) | 172 |
| Fat | 10.5g |
| Fat (of which saturates) | 4.7g |
| Carbohydrate | 0 |
| Carbohydrate (of which sugars) | 0.1g |
| Fibre | 0 |
| Protein | 18.0g |
| Salt (mg) | 0.18g |
Satisfaction Guaranteed
Please see our about us page
Chef's Recipe
Beef Pasta Salad with Tangy Herb Dressing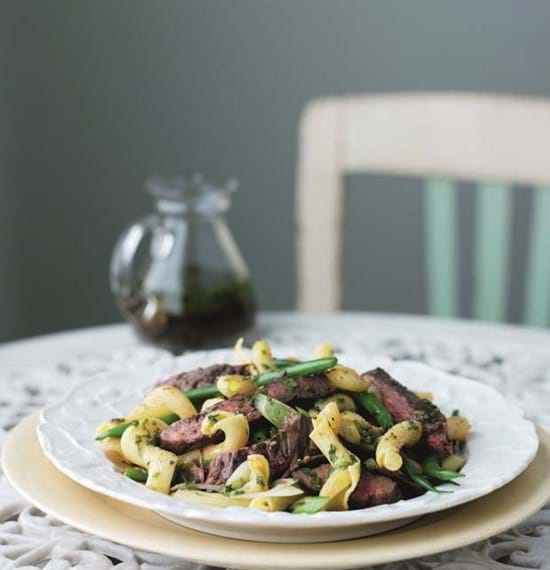 Ingredients
450g/1lb lean hanger, sirloin or rump steaks

175g/6oz dried pasta shapes

175g/6oz French beans, trimmed

2 spring onions, finely chopped

50g/2oz sun-dried tomatoes in oil, drained and roughly chopped

Salt and freshly milled black pepper

15ml/1tbsp olive oil

For the Tangy Herb Dressing

1 large handful freshly chopped coriander

1 small handful freshly chopped chives

1 garlic clove, peeled and finely chopped

30ml/2tbsp extra virgin olive oil

60ml/4tbsp Worcestershire sauce

30ml/2tbsp white wine vinegar
Method
Cook the pasta according to the packet instructions. During the last 2-3 minutes of the cooking time, add the beans then drain with the pasta and cool. Transfer to a large bowl and add the spring onions and sun-dried tomatoes.
Meanwhile, prepare the herb dressing; place all the ingredients into a screw-topped jar, shake well and set aside.
Place the steaks on a chopping board, season on both sides and brush with the oil. Cook on a prepared barbecue or under a preheated moderate grill according to your preference. Transfer to a warm plate and leave to rest for 5 minutes.
Slice the steaks diagonally and toss the strips in the salad with any meat juices from the plate. Shake the herb dressing, spoon over the salad and serve warm.
32 Day Dry Aged Yorkshire Grass Fed Beef Hanger Steaks
Awesome steaks, I have cooked these on the BBQ and Air Fryer, they are so tender and full of flavour, great value.
Best steak.......ever
What a great steak, I've never had Hanger before but it will be our go to steak from now on.
I've bought a better pan for the next ones so I can get it really hot.
BBQ'd Hanger
As with all of the meat we have had from here, really tasty, great quality, reliable and on time delivery.
The one constructive feedback I would have is that of sizing. Ordinarily you walk into the butchers and look for the right size of meet/joint you would like.
From the picture I thought, great you get two hanger steaks (when we have bought them from the butchers about a foot long). I will cook one and freeze one. When it came, it was two hangers but each about 6 inches long. So I had none to freeze. No bother, I now know for next time. A similar thing happened with pork shoulder, it was half the size as in the picture, but I wanted the amount in the picture. Again lesson learnt. It would be helpful for people like me who don't know what 1kg or 254g looks like in reality to have the actual picture of the size so that when you change the size you can see the difference.
Simply Delicious.
My partner is a veggy, and I don't eat an awful lot of meat. When I do, I like it to be as ethical as possible, and a little bit special. I purchased these unusual grass fed steaks for a special occasion meal, and they did not disappoint. I've had hanger once before, at a friends bbq. He sliced it thinly and flash grilled the slices. It was awesome.
These steaks were exactly as I remembered them - the most amazing beefy flavour, tender and thick.
I would warn though - if you don't like strong beefy flavours, these are not for you.
Apparently, you have to cook this fast, otherwise it can go tough. I am also told by a friend in the restaurant trade that it is best served at least medium rare, and is not a good cut to have rare.
I cooked from room temperature, brushed oil generously onto the steak and seasoned, then placed it into a blisteringly hot stainless steel pan for 3:30 each side. I held it on one narrow edge for a few seconds just to seal it up.
Then I rested it for a generous 15 minutes. Following the rest, the steak went into my oven at 200c, with a meat thermometer in. On reaching 55c, the steak came straight out, back into the blistering pan for less than 30 seconds a side, just to ensure the crust was spot on. I sliced it on my plate, and served with chip-shaped super crispy roast potatoes, yorkshire pud and a side salad.
I'll be buying this again, for sure!