Rib of Beef on the Bone
A visually stunning beef centrepiece prime rib of beef is Dry aged for 32 days and French trimmed by our Master Butcher and left on the bone for maximum flavour. This well-marbled meat caramelises upon cooking, which coupled with the use of grass fed beef and Dry age maturing techniques, makes for natural succulence and outstanding flavours. Perfect for that extra special celebration dinner party. Our Rib of Beef on the Bone is available in 1Kg, 2Kg, 3Kg.
Please see our other cuts of beef available to buy online if this is not what you were looking for.
Nutritional Information
| | |
| --- | --- |
| Per 100gm | |
| Energy (kj) | 120 |
| Energy (kcal) | 290 |
| Fat | 25.1g |
| Fat (of which saturates) | 10.7g |
| Carbohydrate | 0 |
| Carbohydrate (of which sugars) | 0 |
| Fibre | <0.1g |
| Protein | 16g |
| Salt (mg) | 0.05g |
Satisfaction Guaranteed
Please see our about us page
Chef's Recipe
Roast Beef and Yorkshire Puddings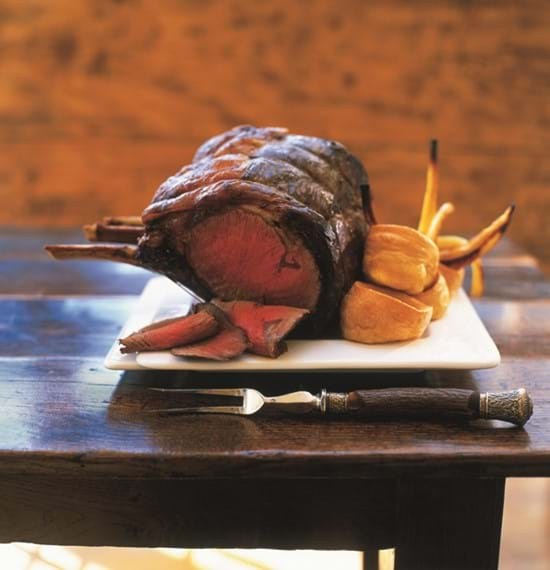 Ingredients
2.75kg lean rib beef joint (3 ribs), topside or sirloin joint

3 onions, peeled and cut into chunky dice

2 garlic cloves, peeled and sliced

6 tablespoons beer

3 tablespoons rowanberry, quince or redcurrant jelly

2 sprigs fresh thyme

For the Yorkshire puddings:

75g plain flour

2 eggs

150ml beer

1-2 tablespoons oil
Method
Preheat the oven to 180-190°C, 160-170°C Fan, Gas Mark 4-5.
Take the beef joint or a smaller joint to suit your family size and calculate the cooking time. Season and place into a roasting tin. Open roast in a preheated oven for the calculated cooking time.
25- 30 minutes before the end of cooking time the onions and garlic to the pan.
Increase the oven temperature to 220°C, 200°C Fan, Gas Mark 7.
For the Yorkshire puddings, in a bowl mix together the flour and eggs, then add the beer and whisk until smooth. Divide the oil between 4 large or 12 small Yorkshire pudding tins and heat in the oven for 5-10 minutes. Pour the batter in the heated tin and cook for 20-25 minutes until risen and browned.
Serve the beef with the Yorkshire puddings, onions (or add to the gravy) roast potatoes and seasonal vegetables.
Christmas Beef
Very impressed with telephone advice, ordering and delivery service, and most importantly, the quality of the beef. We had an absoulutely delicious Christmas lunch - the beef was tasty, succulent and easy to cook and carve. Thank you.